Welcome Back, BLUES!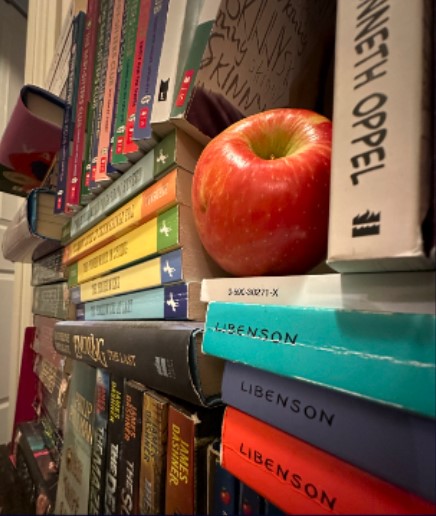 *The image on the right was taken by Grade 9 photography student - Nuala Wong (2022/23)
We are very excited to welcome our families back to what will be a great year.
As a reminder, as we build habits to ensure our students and community are safe, please refrain from parking and waiting for students in the Westbrook Mall parking lot. If we have even 10% of our families waiting in the mall parking lot, this would be over 100 cars. To support our neighbours, ensure that business customers have a space to park while using the business facilities and continue to ensure safety for our students, PLEASE do not park or wait in the Westbrook mall parking lot.
Also, please be cautious driving and parking in front of and near the school. Please be mindful of the Handicap parking spaces and our students crossing the streets.
We appreciate your support and look forward to another great year at Vernon Barford.
Vernon Barford School is full in planned classes in Grades 7, 8 and 9 in the Regular program. We will now only accept resident students in Grades 7, 8 and 9 who have newly moved into Vernon Barford School's attendance area and Dr. Margaret Ann Armour School's attendance area for the regular program. A resident student of Edmonton Public Schools has at least one parent or legal guardian living in Edmonton who is not Roman Catholic. Non-resident students can enroll in another Division school with space in planned classes.
If you are new to Edmonton Public Schools, you must register online.
Welcome to Vernon Barford's website, and thank you for your interest in our school. The core purposes of our school are to a) Ensure learning and b) Promote the positive development of the whole child. We offer Regular and Gifted & Talented programming at all three grade levels, and our school is home to about 800 students in grades 7 to 9. We continue to have a proud tradition of providing excellence and opportunity in academics and various extracurricular activities.
The pre-enrolment process for the 2022-2023 school year is now complete. If you are interested in registering your child for the 2022-2023 school year, please allow us to make you aware of some important information below:
Registration
As all grades and programs are full and closed, we can only accept new students if they have not been pre-enrolled with any other school for the 2022-23 school year or are newly moved into the Vernon Barford attendance area after April 14, 2022.
For more information about registration at Vernon Barford or any other EPSB school, please check the "For Parents-Registration" tab on our website.
Please click here to access our School Supply List.
If you have an EPSB SchoolZone account and would like additional information about our school, please check out our BLUES Info Zone at the link below. This link outlines how school occurs at Vernon Barford in normal times. Adjustments for the upcoming year may be required to meet COVID expectations.